Enough about guns, political pinheads, and bombastic bloviating.
A belated "Happy Marriage" to author
Neil Gaiman
and punk-cabaret songstress extraordinaire,
Amanda Fucking Palmer
.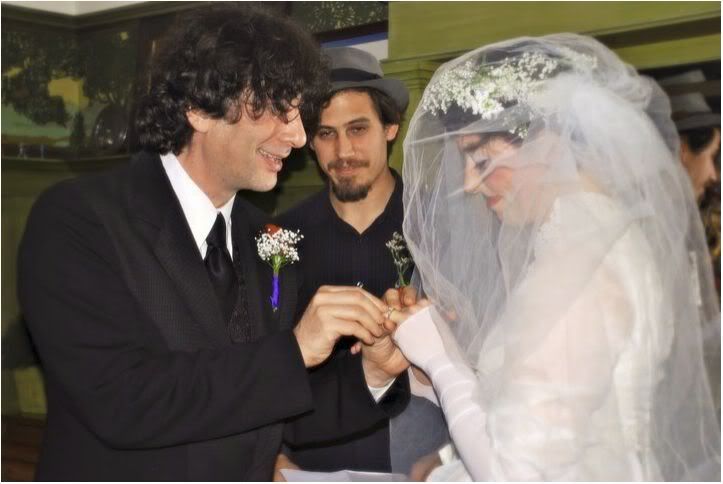 For those unfamiliar, Mr. Gaiman is the noted wordsmith behind more than a few excellent novels, including
Coraline
,
American Gods
and
Neverwhere
, as well as the acclaimed
Sandman
comic series published by DC/Vertigo.
The inimitable Ms. Palmer was/is half of the "Brechtian Punk Cabaret" duo,
The Dresden Dolls
, before branching out into a solo career that will astonish, amaze, and totally reinvent how you think about
Radiohead and ukuleles
.
And yes, if you must ask, I nicked one of their wedding photos for this post from Facebook. I doubt either would mind, much, as such behavior is only creepy if I had previously dated one or both of them. Since A.) I can't very well do Neil's writing much justice with an excerpt and B.) I don't want to wait until next October to post it, here's a clip of the reconstituted Dresden Dolls at Irving Plaza in NYC (courtesy
BrooklynVegan
) this past Halloween...